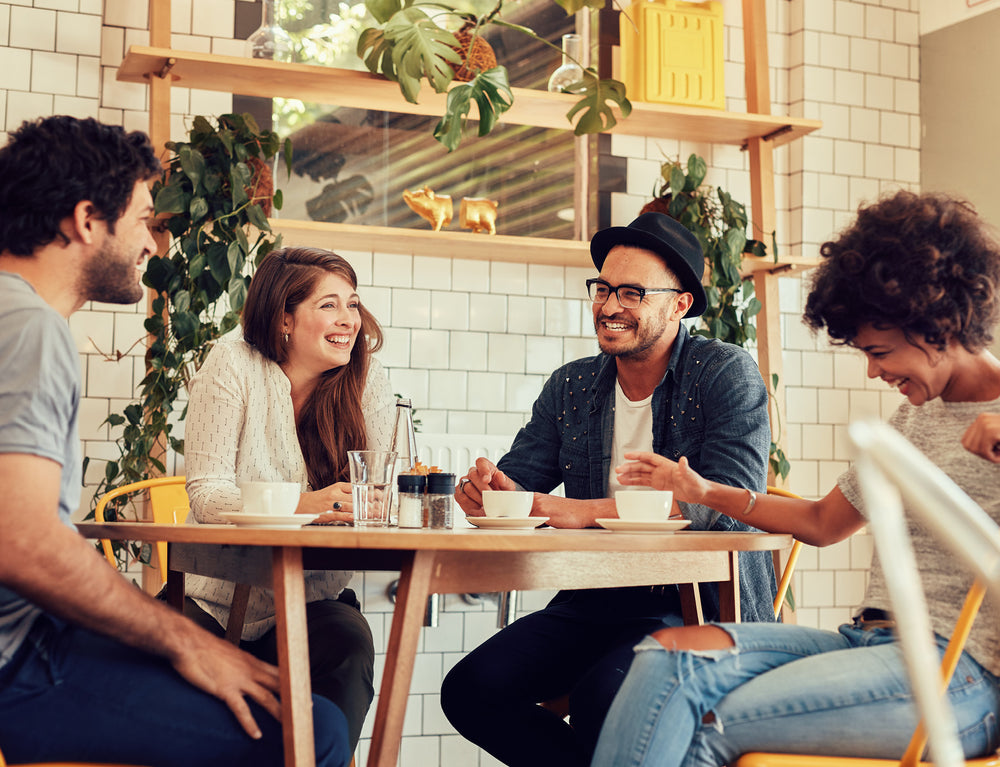 Consumers and operators alike are looking for more sustainable food and beverage options. Kerry Foodservice's beverage brands are coming together to work toward a sustainable future. Each brand is focused on cleaner labels, partnering with organizations with shared sustainability goals and creating products with reduced environmental impact.
See how each brand is committed to a sustainable future
DaVinci Gourmet
Crafting Flavor for Sustainable World
Simple ingredients that deliver bold flavor
Flavor has the power to make the world a better place. At DaVinci Gourmet, we're committed to reducing our environmental footprint and pouring it forward in our community. We are simplifying our ingredients to let authentic, pure flavor shine so you can proudly serve responsible flavors that stir emotion, inspire imagination and protect our planet.
Oregon Chai
Responsible chai of North America
Pioneering sustainable chai since 1994
Since 1994, Oregon Chai has been leading sustainable initiatives that make a positive impact on the world around us. We believe in doing our part to preserve those Me Time moments and we are committed to diminishing our environmental footprint, reducing sugar across the portfolio and continue using only organic and natural ingredients. Organic farming promotes ecological balance and soil biodiversity, fostering a healthier earth, and ultimately healthier you. When Mother Nature is happy, we're happy.
Island Oasis
Leading the way to a sustainable paradise
Reducing 1 billion grams of sugar and inspiring sustainable change.
Island Oasis is committed to inspiring change and making a positive impact on people, society and the planet. We believe paradise is a place worth sustaining and we're leading initiatives to minimize our environmental footprint and strengthen communities. We create clean, wholesome and natural products made with real fruit in recyclable, responsible and renewable packaging. We share our commitments with customers around the world and are driven to lead the way to a sustainable paradise.
Big Train
The healthier and indulgent choice of Frappe Mixes
Delivering wholesome, functional and sippable mixes
Big Train has one focus: to help you blend, pour and serve more sustainable beverages that are better for people, society and the planet. That's why we're committed to reducing sugar in our products, reducing water and carbon usage in our manufacturing process and increasing recyclable, renewable and responsible packaging to create simple, sustainable mixes for every indulgence.
DaVinci Gourmet Sustainability Commitments
Better for People:
Simplify & Reduce Manufacturing Impact by 20% to deliver best in class flavor with Clean Label Syrups & Sauces​
Better for Society:​
Connect with the community through sponsorships and strategic relationships, while empowering grass roots and women-owned businesses​
Better for Planet:​
Reduce water usage and aim to have zero waste to landfill by 2023
Big Train Sustainability Commitments
Better for People:
Delivering on dairy-free drink mixes featuring BC30™ probiotic and functional benefits
Better for Society:​
Engaging in community partnerships that deliver positive social and environmental impacts​
Better for Planet:​
Reducing water usage and aiming for zero waste to landfill by 2025
Oregon Chai Sustainability Commitments
Better for People:
Developing and launching unsweetened chai concentrate in 2022 and reducing sugar across our portfolio by 15% by 2024
Better for Society:​
Engaging in community partnerships and elevating Non-GMO Project Verified and Organic products
Better for Planet:​
Partnering on recyclable, renewable and reliable tetra carton packaging
Island Oasis Sustainability Commitments
Better for People:
Reducing sugar by 1 billion grams by end of 2023​
Better for Society:​
Sustainable sourcing of key fruits by 2025​ and engaging in community partnerships​
Better for Planet:​
Reducing scope 3 water usage & carbon emissions, zero waste to landfill by 2024 and reaching carbon neutrality by 2025